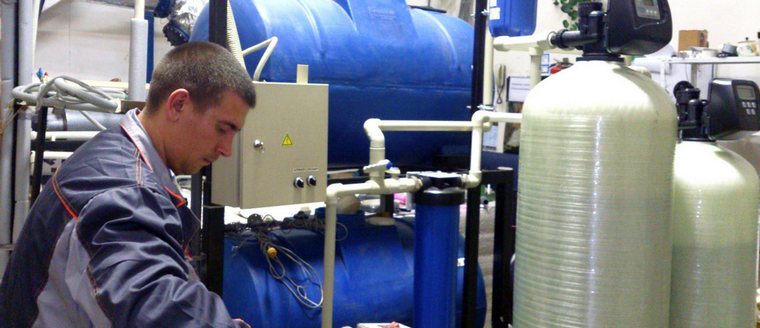 For the owner of private houses, commercial companies and large industrial enterprises, the installation of water treatment and purification systems is very important.
The choice of equipment depends on the specific needs of the client. The main task is to obtain purified and compliant water.
Installation of any water treatment system begins with a water analysis. After determining the chemical composition of water and comparing it with the normative indicators, the design scheme of water treatment, which allows to achieve the desired result, is proposed. In a dialogue with the client, the price of the system, possible equipment and its place on the site are discussed. After approval of the final version of the scheme, the system is installed.
Installation of equipment is carried out in the following order:
pre-measurements at the object and then the installation chart is developed;

purchase/production of the selected equipment;

the necessary elements of the system are supplied to the customer;

assembling of installation chart;

the system is inserted into the existing water pipe;

equipment is connected;

system start-up, then the analysis of water quality is carried out.
Mounting options are varied, depending on the size and function of the equipment, free space on the object.
It is possible both floor and suspended installation of the system. The whole complex of water treatment system is mounted so that it would be convenient to carry for it. .In case if the developed system has a container scheme, it is possible to install it in an already assembled form, when it remains only to carry out commissioning.
A typical water treatment system involves the installation of a mechanical filter first, then a complex cleaning device, after which a decontaminates is placed.
The experts of ŠOMIS, JSC will give a full information about suitable for the object equipment. Installation of filters is carried out by professionals who know full specifics of water treatment.
Šomis, JSC is certified by the equipment manufacturers. Our specialists know how to program the equipment and maintain it. We are always ready to answer all your questions about using of the filters and their maintenance.
Basic maintenance procedures for water softening filters:
Filling with salt;
Preventive cleaning;
Removing of the salt layer.
Basic works on de-ironing filters cleaning:
Water pressure checking;
Drainage system checking;
Water quality control;
Checking of the controller settings;
Maintenance at least once every 12 months.
Also the experts of ŠOMIS carries out chemical washing of the membrane equipment both on object of the client, and on the production, replacing membranes on the equipment of the client with temporary membranes.